There are two comics today!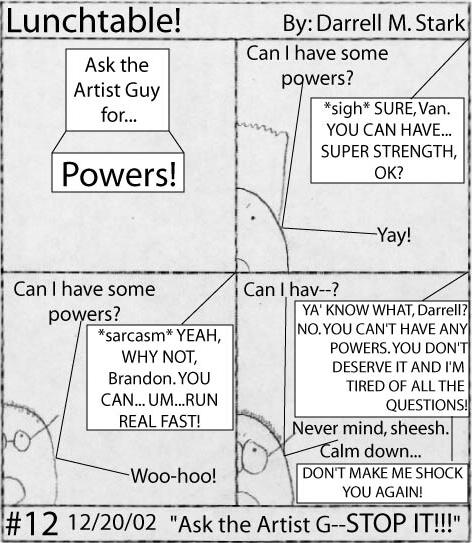 Yellow Notepad: Issue #12 | 12.20.2002
con*ti*nu*i*ty:
The state or quality of being continuous.
An uninterrupted succession or flow; a coherent whole.
If you remember strip number 4 (12.12.2002) Then you'd know why the empty threat is there. Just look back to see... Beware: There'll be more continuity in the future! Muhuhuhahahahah!
I don't know where this idea came from... I think I was just fooling around with some ideas and then this one came up... Meh, whatever...
Darrell M. Stark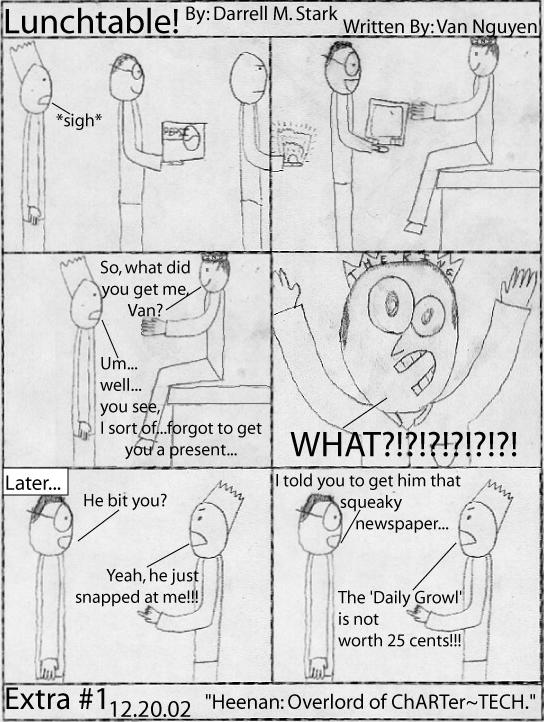 Yellow Notepad: Special Issue #1 | 12.20.2002
HAPPY BIRTHDAY, MR. HEENAN!!!
Van came up with the idea for this one. He didn't want to draw it, so I did.
Like I said a couple days ago, this is the start of EXTRA COMICS!.
EXTRA COMICS! are comics that aren't a part of the main series. Sometimes I get or recieve ideas that I really want to post ASAP. So, I draw them aand double it up with the day's regular comic. It's a good idea.
Note: If you're a reader of
Real Life
, then you'll recognize the face of Mr. Heenan in the fourth frame. It's just like the time when Greg tried to eat Dave! (If you're not a reader, you should be...check it out!)
DRINK PEPSI ONE!
Darrell M. Stark